The website highlighting nearly 1,000 businesses in the capital has been given a facelift.
The website highlighting nearly 1,000 businesses in the capital has been given a facelift.
"Stores are the soul of the City." And these words from Alderman Serge Wilmes (CSV), everyone was able to have the translation during the first confinement, but also now that cafes and restaurants must remain closed until December 15. And if the elected officials of the capital have already shown their support for businesses, Tuesday they added an additional stone to this support in these difficult times. Thus, a new version of the cityshopping.lu platform has just been launched.
---
---
One more (nearly 157,000 € invested all the same) very useful, while with the exception of a few opening announcements (Decathlon and Monoprix in January 2021), market life is gray. Also, the redesign of the site constitutes a new avenue of recovery for many brands. On its own, this internet address already hosts the presentation of 1,038 stores out of the 1,500 open according to the 24 districts of Luxembourg.
For this year alone, the number of stores offering their products for sale via cityshopping.lu is increased from 200 to 500. And, Tuesday at the time of unveiling the new features of the site, the president of the UCVL, Guill Kaempff, did not hide that the impact of the covid crisis was not for nothing in this attractiveness … Not to mention that registration to these pages is completely free.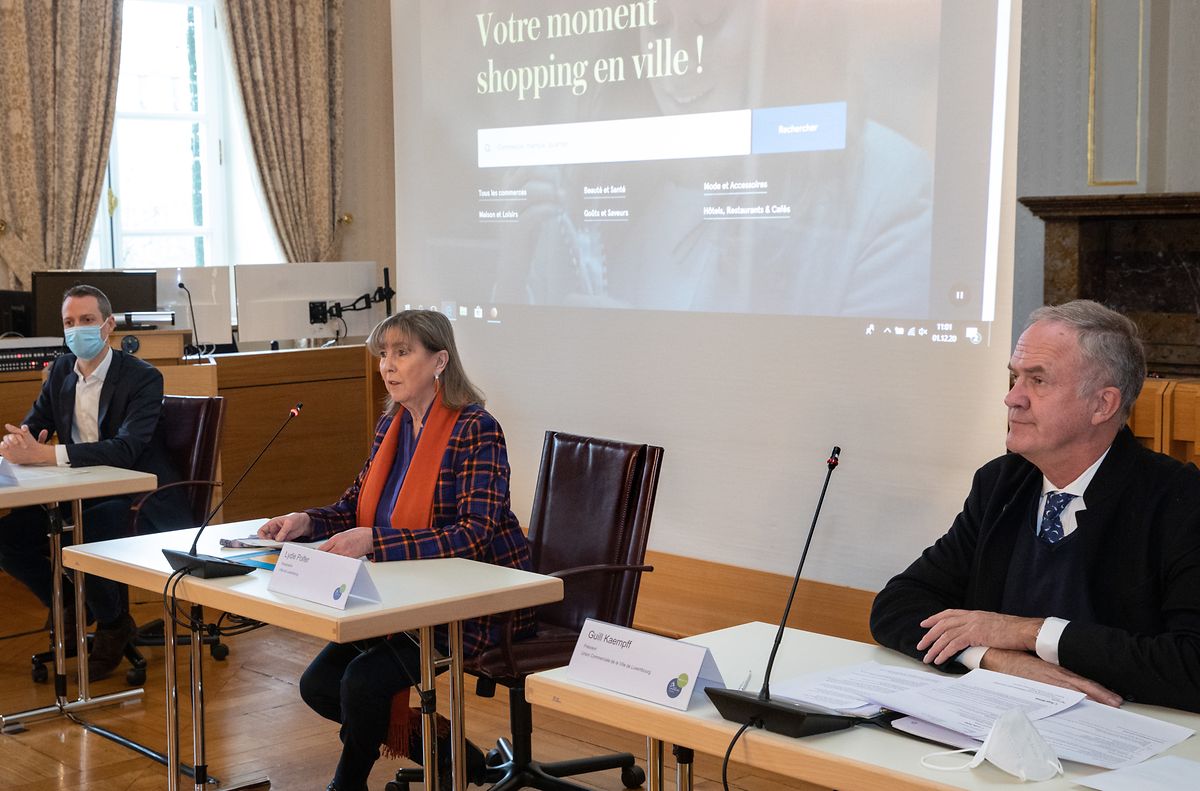 The mayor announced on Tuesday a new business assistance plan for 2021.
Photo: Guy Jallay
Beauty, health, fashion, hi-fi, various accessories, decoration for the home, leisure offers, food, catering, hotels: the site has been in existence for eleven years now. Those who frequent it also know that they can find the dates and places of markets, flea markets, but also various events which, in normal times, animate the City.
Anne Darin-Jaulin, Director of the UCVL, took the opportunity to announce the upcoming establishment of a advertising campaign, touting the advantages of cityshopping, but also the holding of a competition in the coming weeks.
---
---
But no question for the elected officials of the capital to stop there in the support of an economic sector in difficulty since the spring. Luxembourg will therefore continue to step up actions, beyond the 5.8 million euros of efforts already announced. Thus, mayor Lydie Polfer (DP) insisted on ensuring that the City could reduce some of its rents, starting with those for premises hosting cafes.
---