Internationally recognized economist, Christina Gathmann has just taken the head of the department dedicated to the labor market within Liser. The opportunity to discuss with her the consequences of the health crisis and digitalization.
Internationally recognized economist, Christina Gathmann has just taken the head of the department dedicated to the labor market within Liser. The opportunity to discuss with her the consequences of the health crisis and digitalization.
Your CV presents you as one of the most influential economists in the world, with connections to both Berlin and Stanford. Why did you choose to settle in Luxembourg?
Christina gathmann – "After more than a decade in the United States and another in Germany, I felt it was time to take on a new professional challenge. The Liser offers to me a combination of an ambitious institute, enthusiastic researchers and a fascinating general environment. I have only been in the Grand Duchy for two months, but the Institute has already kept its promises. This is why I hope that together we will be able to develop its potential to make it a very reputable research establishment at European level in the coming years.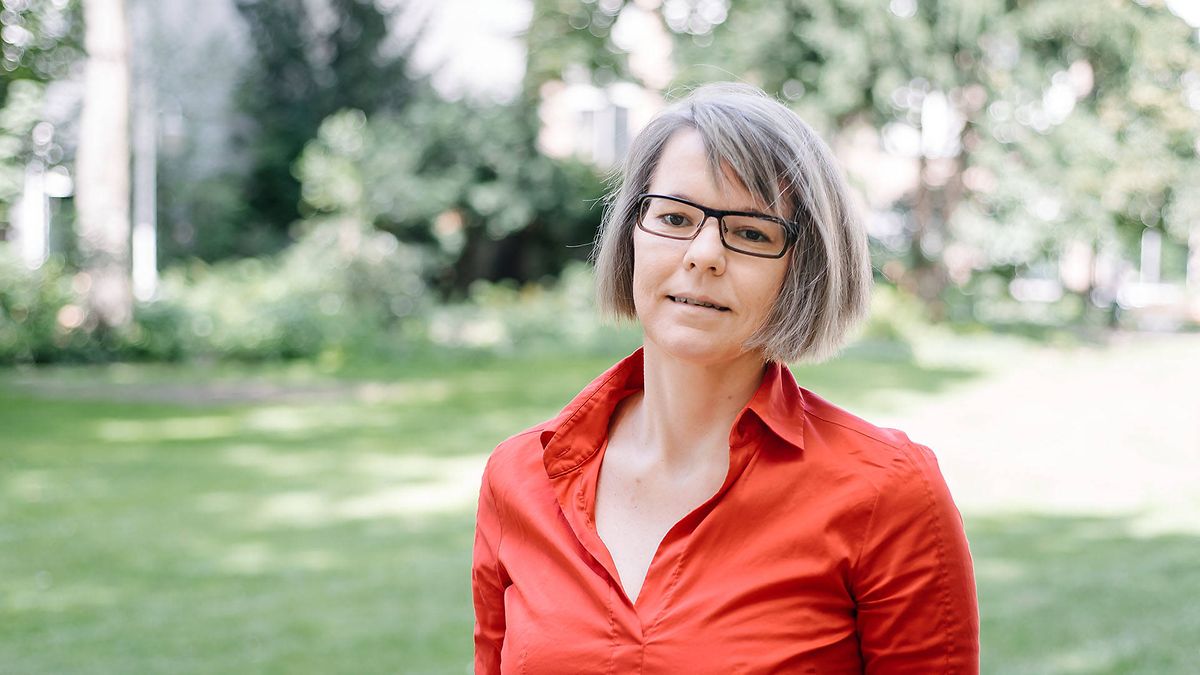 Christina Gahtmann, new director of the labor market department at Liser.
Photo: Sebastian Neumann / Liser
As a labor market specialist, how do you see this area in Luxembourg, knowing that it is characterized by small size, dependence on the financial center and its interaction with the Greater Region?
"You point out three important features, and I am still familiarizing myself with all of them. All the same, I see some common characteristics with the job market in Germany, which I know much better. Namely a very competitive economy and a strong dependence on international markets. If the sectors of activity are however very different – since Luxembourg has a much more service-oriented economy than its German neighbor – I identify three similarities.
First of all a strong opening of the two economies, the presence of a strong welfare state and finally, the important role played by immigration in the broad sense. Germany has become the first destination for migrants in the world, while Luxembourg certainly has the high proportion of frontier workers and workers with an immigrant background.
Economic engine of the Greater Region, how can Luxembourg best reconcile its workforce needs while maintaining a win-win relationship with its neighbors?
"In many ways, the current situation already seems very close to a win-win relationship. Luxembourg can rely on a much broader base of skills in its neighboring countries. And neighboring regions and countries are benefiting from the strength of the Luxembourg economy and labor market. Of course, there are also challenges to overcome, as the model relies heavily on Luxembourg to provide attractive jobs and generate income in the Greater Region.
A crisis in key sectors (such as the financial center, editor's note) or challenges linked to climate change or Brexit could then constitute a serious threat for the entire region with little economic compensation from neighboring countries. A second concern is whether the skills found in neighboring regions can meet skill needs, especially in the highly skilled service sector.
A smart migration policy as well as education and training programs for workers are important to address skills shortages or mismatches. Finally, other more everyday aspects have negative consequences, such as traffic jams, the shortage of affordable housing and potential threats to social cohesion.
Does the study of the Luxembourg labor market constitute a particular playing field that could serve as a laboratory for European policies?
"Yes, I firmly believe that Luxembourg is a laboratory for a more integrated Europe. We are currently witnessing an increasing integration of labor markets, with cross-border workers and migrants crossing national borders. The Greater Region is a good example. At the same time, we still have a lot of different national regulations, whether it is regarding housing or taxes to labor market policies. Understanding the impact of different regulatory regimes on the labor market, for example, can teach us where regulatory alignment at European level is desirable and important. In this sense, Luxembourg's flexibility can be seen as a good practice for a future integrated Europe.
---
---
In this context, the implementation of digitization in the Grand Duchy will be closely scrutinized, since it is faster to implement. What could be the benefits?
"The emerging digital revolution offers many challenges but also many opportunities. The workplace will be different and the organization of work will have to change with it. Some businesses and some business models will not survive. Most importantly, the workforce will need to have different skills than today.

What does that mean, concretely?
"It is undeniable that the digital revolution will lead to automation, ie the replacement of certain jobs by machines or algorithms. According to recent and credible estimates, around 10% of current jobs could become obsolete. It is certainly a lot, but a lot less than the figures which sometimes circulate in the media. On the bright side, the experience of the IT revolution shows that businesses and workers can adapt. A bank employee today does a very different job from what he did before the creation of ATMs, for example.
More importantly, the digital revolution also offers vast opportunities to increase productivity in many jobs. This will increase the demand for labor. It's important that we don't just consider the threat of automation, but also look at the potential productivity gains.
---
---
What measures should be put in place to allow as many people as possible to adapt to this new world?
"On the one hand, we need to ensure that the workforce has the skills necessary for the economy of tomorrow and beyond. This implies adapting teaching programs, but also setting up training and learning programs to enable skills upgrading. It is also important to ensure that smart tax and regulatory regimes are in place to distribute revenues from new technological opportunities. We might need a tax on robots, for example. And thirdly, and perhaps most importantly, we must reform existing policies and design new policies to encourage economic transition, but also to cushion the costs of its destructive power.

The current health crisis has highlighted certain difficulties, such as the high risk of poverty among workers in the Grand Duchy. What mechanisms could be activated to try to reduce this situation?
"It is a well-known fact that extraordinary crises, whether economic or health-related, have the most serious consequences for economically and socially vulnerable people. We have seen this in the United States, where the likelihood of suffering serious health problems and dying from disease is much higher for blacks in poor neighborhoods than for whites. We find similar, although less pronounced, differences between social groups in France, Germany and the UK.
Generous income support is the most important policy during the crisis to cushion the crisis. To solve the problem in the long term, educational opportunities are as important as measures to improve access to affordable housing, for example. "
---