Real Estate
The green form of building: sustainable building on the upswing
Whether you like it or not: You can't get around the topic of sustainability these days. Climate protection has arrived in almost every area of ​​everyday life.
Also and maybe even in the real estate industry. The decisive factor here is the terminology "ESG", which has great advantages for companies.
More than just profit
ESG stands for "Environmental", "Social" and "Governance" – three terms that describe the sustainability-related areas of responsibility of companies and have established themselves as the standard for sustainable investments. "Environmental" refers to environmental issues such as environmental threats from climate change and scarcity of resources. "Social" hides social elements such as human rights, occupational safety or social engagement. And "governance" describes criteria such as risk and reputation management, supervisory structures or compliance that mainly relate to corporate management.
As an analysis by the Global Sustainable Investment Alliance (GSIA) in 2016 showed, up to $ 20 trillion flowed into sustainable investment vehicles. If you combine this with the ESG approach, it turns out that many investors are no longer just about the profit of a company. It's also about seeing how sustainable a company works, how it generates its profit or how it deals with its employees.
Green investments with advantages
Sustainable investing has also arrived – or maybe just – in the real estate industry. Because there is hardly an industry that has such a large impact on climate protection as an effective real estate industry. "Our properties have direct and indirect impacts on the environment and society," said Bernd Bechheim, Head of Portfolio Management and Transactions Continental Europe, as the magazine "Immobilienwirtschaft" reports, "It is our job to identify and control these issues ".
There are advantages to focusing on sustainable building and investing: "A rigorous ESG approach not only makes real estate environmentally friendly, but also more modern and efficient," Bechheim said. According to him, an effective ESG strategy could reduce portfolio risks and vacancies in real estate and lead to higher rental growth in real estate. For example, the building fabric is an important aspect. Markus Wiedenmann of ArtInvest Real Estate agrees. By planning and optimizing "as much" as possible digitally and paying attention to a sustainable construction process, Wiedenmann can save resources. "All the dirt and waste on the construction sites" is environmentally harmful, for example. Cement is also "climate killer number one", quotes Haufe.de.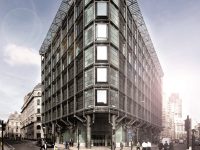 The global real estate market remains attractive. grundbesitz global invests worldwide in commercial real estate from the areas of office, logistics and retail. Why this is interesting for private investors.
Sustainable investing is important for the real estate industry
In the real estate industry, it is important to focus on sustainable construction and investment – especially for the environment. Because: "Around a third of global emissions come from real estate," says Susanne Eickermann-Riepe, German Real Estate Leader of the consulting firm PwC Germany. A turning point in environmental issues has been reached, but "the industry is still reacting too slowly". Investors would still insufficiently prepare their properties for the coming effects of climate change.
A steadily growing volume of investment can still be observed in the sustainable real estate market. As part of a study, analysts from the Catella real estate fund found that 296 sustainable funds were set up in Europe in 2018 – 36 more than in 2017. The investment volume for the past year is 5.8 billion euros, according to Catella. Of this, 2.7 billion euros in the DACH region alone, which has more than tripled the volume in the past four years. The ten largest green building investors in Europe included Allianz, BNP Paribas, Credit Suisse and DWS Group.
According to the study, sustainable investments are particularly popular in Germany. The majority of the investment volume falls on green properties (71 percent), followed by photovoltaics with 18 percent and wind power with 7.1 percent. The analysts attribute the fact that so many investors focus on sustainable real estate to the fact that they would be put under pressure in the face of social challenges such as climate or demographic change. On the other hand, an increase in returns due to sustainability aspects is expected.
Image sources: zlikovec / Shutterstock.com