Real Estate
In these cities, the dream of an old building is still affordable
The dream of an old building has its price. In the metropolitan areas in particular, such apartments are hardly affordable anymore. In some cities, however, the dream could still come true.
Herringbone parquet, stucco on the ceiling, high and bright rooms and opulent facades – old buildings have a special charm and convince with a special living atmosphere. Many people dream of living in such a historic building. Unfortunately, this is often hardly affordable.
Over 9,000 euros per square meter
In large cities in particular, old buildings are usually significantly more expensive than younger, used properties. Between 2015 and 2018, prices rose by an average of 30 percent, according to an analysis by the brokerage company Homeday. Homeday defined objects as old buildings that were completed before 1950. Around 100,000 offer prices from the 80 largest cities in Germany were examined. Younger properties, on the other hand, "only" became more expensive by around 25 percent, according to the study.
Old buildings are the most expensive in Munich. Not surprisingly given the already very high average level in the Bavarian metropolis. "Real estate buyers who are looking for historic home ownership here can expect an average cost of € 9,370 per square meter. In good locations, five-digit amounts are also not uncommon, "quotes FOCUS Online Steffen Wicker, founder and managing director of Homeday. The prices for old buildings in Munich were again around 32 percent above the average prices. It only looks more extreme in Heidelberg: there, the prices for historic buildings are 55 percent higher than those of younger buildings, according to the study. With an old building price per square meter of more than 5,200 euros, Heidelberg is in second place behind Munich. With prices still above 5,000 euros per square meter, Hamburg follows in third place and Frankfurt am Main in fourth.
"In view of the continuing high demand, rising prices for old buildings can still be expected," feared Wicker.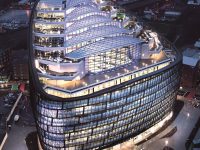 Impressive real estate for your depot? From whole Europe? With grundbesitz europa, investors can easily invest in the European real estate market. And all of that from small amounts of money.
Did the dream of an old building burst?
But the dream of an old building has not yet come to an end, because there are still a few exceptions. According to Homeday, historical bargains can still be found in the Ruhr area. "While, for example, representative and high-quality buildings from the Wilhelminian era and the turn of the century shape the cityscape in Berlin and Hamburg, numerous workers' and factory settlements, which were built in the industrial heyday of the Ruhr area, formed the cornerstone for today's district cities," explained Wicker. The large range of old buildings depressed prices, which is why bargains are still possible there.
Image sources: hanohiki / Shutterstock.com