Sectors
E bike Feature Fight What does the consumer want
ANWB, Consumentenbond, The Telegraph and the AD recently published reports and announced winners. One conclusion: the choice is huge. To continue playing the game as a bicycle brand, you therefore have one thing to do: hit the plank.
What do I have on my bike again?
ANWB cycling expert Hans de Looij believes that we are still on the eve of a true e-bike revolution. Some experts even predict that everyone will "go on an e-bike". In the long run.
But what do consumers like about an e-bike? And is it all hallelujah or are there also disadvantages? To find answers, we surveyed 400 Dutch people (60% e-bike owners and 40% e-bike riders).
The ten most important gains that consumers indicate to use an e-bike:
1. Freedom: being able to travel further than with a "regular" bicycle
2. Time savings: faster from A to B.
3. Independence: being able to get on a bicycle with rheumatism and in old age with strong winds
4. Enjoy moving: the nice feeling of cycling a lot
5. Health: take the bike more often, stay active
6. More energy: cycling gives energy
7. Cost savings: savings on parking costs
8. Rest and relaxation: no heavy load, arrive on time
9. Pride: seeing how much you have driven gives a feeling of pride
10. A better world: sustainable and economical
There are certainly doubts and concerns when purchasing an e-bike:
1. High price: it is quite an investment
2. Choice stress: there is so much choice, what should you choose?
3. Charging: you always have to remember to charge the battery
4. Battery life: does the quality remain good?
5. Theft: e-bikes are stolen a lot; sought after object
6. Battery quality: can it overheat?
7. Image: being laughed at, feeling old, out of condition
8. Condition: you move less, less strenuous
9. Control: the bike is going fast, scary
10. Little use: doubt how often you will use it
E-bike is more than a collection of tech specs
In most e-bike tests, the emphasis is on the comparison of tech specs: who has the best battery, who has the shortest braking distance and the best motor?
However, from the consumer's perspective, an e-bike is much more than a set of tech features. To really enjoy the e-bike, it is also about the extras that are offered with an e-bike.
Almost all bicycle brands already offer a range of services, of which we have examined 25, divided into three types of services:
1. Services dealing with the safety of the bicycle – in particular the theft part (such as a find my bike app or roadside assistance)
2. Services that stimulate the positive feeling of exercise (such as insight into the CO2 saved or bonuses for more kilometers traveled)
3. Warranty services that ensure that the cyclist does not have to worry about wear or service.
A choice-based conjuncture measurement * shows that most security services (54%) are preferred over the other two types of services (30% and 16% respectively).
The research also shows that:
– 40% of consumers indicate that services related to safety (1) are 'delighters': they are services with a distinctive character than other types of services
– services surrounding the positive sense of movement (2), an approximately equal proportion of consumers consider it 'delighter' (42%), but 16% also don't care if such services are included; it is an apparently specific group that values ​​this service highly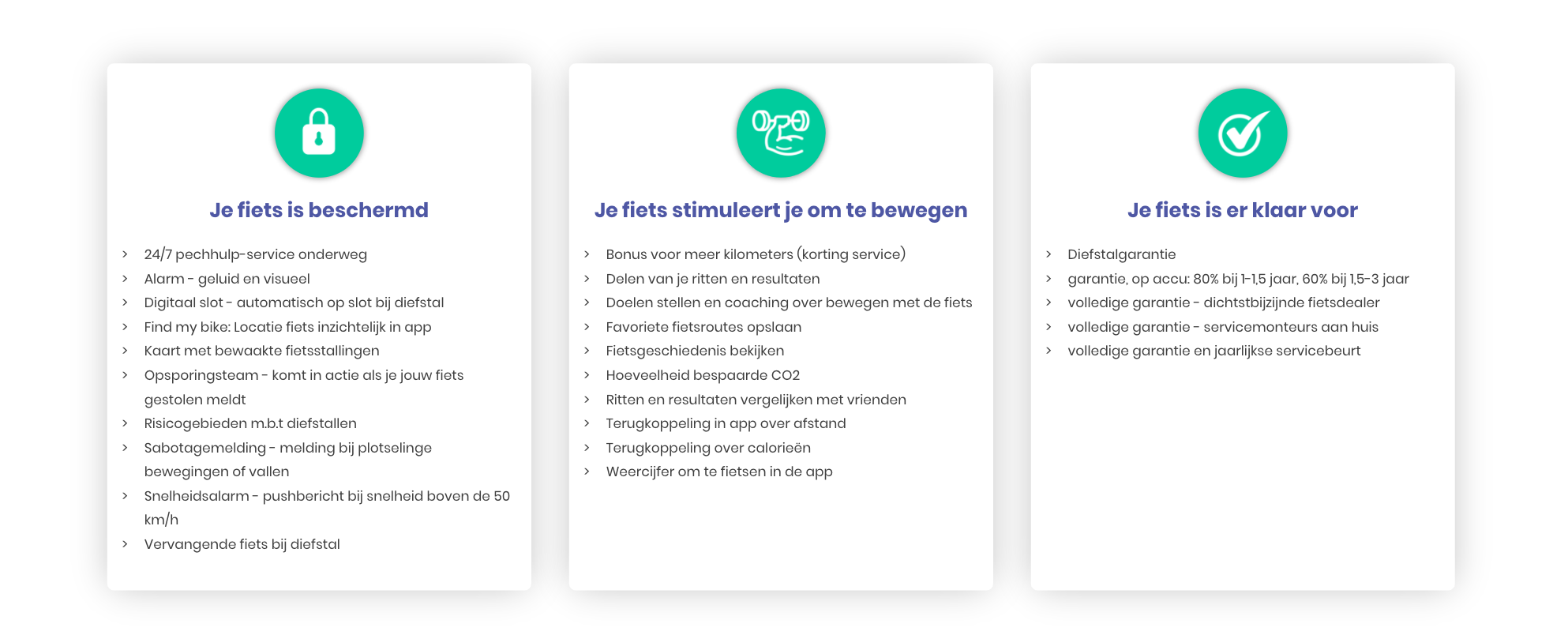 The top 5 most preferred services are mainly aimed at providing peace of mind and control:
1. Find my bike (always know where your bike is)
2. An automatic digital lock in case of theft
3. Replacement bicycle in case of theft
4.5 years full warranty by home service technician
5. 24/7 roadside assistance service
The right hammer
In order to 'hit the mark' as a brand, it is therefore important not to run into each other with 'I think' and 'I think' discussions to determine the right features. By better understanding what your consumer wants, you can better determine which (tech) features and services match the wishes of the target group.
A choice-based conjunction measurement is a useful measurement method because it reveals in a semi-implicit way which features matter to the consumer. In addition, it offers the opportunity to compare your own proposition with that of your competitors and the impact of the omission or addition of certain (new) features on the preference. This provides insight into how an existing or new proposition 'scores' compared to competitors in the market.
In addition, it is recommended to also look at the perceived impact of a feature: how bad is it, for example, when a feature is missing? Does a feature really make a difference?
Using the Lean method, the Kano model is applied (developed by the Japanese professor Noriaki Kano) and you can determine whether a feature is seen as a hygiene factor (must be there), performance factor (the more the better) or WOW factor (extra factors that can surprise a consumer).
Scraping and analyzing online reviews is also valuable because it shows what consumers are talking about spontaneously (especially: about complaining). Machine learning provides interesting insights!
In short, get the right hammer to hit with every improvement!