Latest
Arag / Roland – High demand for legal advice
Many of those affected consider the political decisions to be excessively exaggerated and therefore refer to the Federal Constitutional Court, which has to intervene more and more often and requires authorities to grant exceptional permits such as the right to hold meetings or services.
Due to uncertainty, many private individuals, but also companies, are currently taking advantage of the legal protection insurance advice. At Arag in Düsseldorf, the demand for legal advice has risen by 50% across all contact channels, a spokesman tells us. The Roland Group from Cologne also observed a similar development. In the first weeks of the Corona crisis, customers found out more about the Infection Protection Act, quarantine requirements and travel law issues. In the meantime, the questions increasingly revolve around employment law issues. This also applies to commercial customers who also contact legal protection insurers with questions about business interruption or closure, contract law conflicts and also insolvency law. Questions about road traffic, on the other hand, have rather declined, the companies say.
But what begins with legal advice often ends up in court. The corona crisis is likely to trigger a number of processes this year, especially in the labor and local courts. That will be expensive. The total expenses for simple consultancy services with legal expenses insurers are still limited. Arag estimates the costs for individual legal advice as a low three-digit amount. Overall, however, these burdens are likely to be higher in comparison to other companies, because Arag also offers its advisory services to non-customers during the Corona period, for "societal reasons". At Roland, the combined ratio in 2019 was still a comfortable 97.2%. By 2020 it will probably rise. "We are currently working on possible scenarios," a spokeswoman explains. It was still too early for a reliable forecast. The consequences of the corona crisis cannot yet be estimated.
personal-financial.com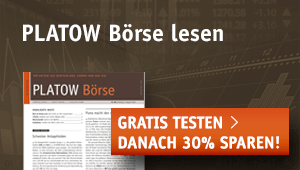 With PLATOW stock exchange to deposit success – test 4 weeks, then 30% discount
PLATOW Börse is the competent advisor for your equity investment. The focus is on the German stock market, supplemented by the best investments from Western Europe and the USA.
This report is not an invitation to buy or sell securities. No liability is assumed for the correctness and completeness of the information or for financial loss.