Latest
Alphabet feels the pressure of the advertising market
The Californians are in the focus of the public together with Apple because of the development and distribution of a German Corona app. Because without their participation, there will be no app for the Android and iOS operating systems running on most smartphones.
Google also dominates the online advertising market with approx. 37% and gives investors important information about the willingness to invest in the entire economy. However, it is not a good sign that the electronic advertising spaces in Times Square in New York are currently filled with placeholders. It was no wonder that the Corona crisis in March caused Google advertising revenues to drop in the mid-10% range. Google CEO Sundar Pichai also expects a significant decrease in advertising revenues in the coming months, which he intends to counter by drastically cutting marketing spending by up to 50% in the second half of the year. In Q1, however, the good early months still saved the picture.
Sales in constant currencies rose a remarkable 15% to $ 41.2 billion. That was about $ 1 billion more than market experts had expected. If we ignore the previous year's EU penalty of $ 1.7 billion, the operating profit nevertheless fell by 4% to approx. $ 8.0 billion. Earnings per share disappointed with a 17% drop to $ 9.87. There is at least some hope that there will be other revenue generators under the Google roof with the video platform YouTube, the Google Cloud and the game service Stadia, which continue to develop well. Stadia z. B. concluded extensive cooperation with the game manufacturer Electronic Arts on Tuesday and will be able to inspire other users with games such as StarWars, FIFA and Madden NFL.
A few weak days in March were enough to stop us on Nasdaq stock ($ 1,336.19; US02079K3059). With the numbers, the stock rose strongly again (+ 8.5%), but a possible weakness in earnings and a look at P / E ratio of 32 make us hesitate about the dividend-free paper.
Alphabet is therefore initially on our watch list.
personal-financial.com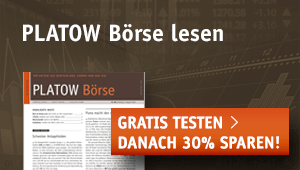 With PLATOW stock exchange to deposit success – test 4 weeks, then 30% discount
PLATOW Börse is the competent advisor for your equity investment. The focus is on the German stock market, supplemented by the best investments from Western Europe and the USA.
This report is not an invitation to buy or sell securities. No liability is assumed for the correctness and completeness of the information or for financial loss.