Investing
Visits to apartments under certain conditions are possible again
With the relaxation of the contact restrictions, it will again be possible for landlords to personally inspect apartments.
Visits due to the lifting of contact blocks and possible again
With the lifting of the curfew in Bavaria and numerous nationwide loosening of corona, real estate visits are possible again. Although these were never prohibited, they were difficult to implement due to the exit restrictions and contact restrictions. However, brokers and landlords are now allowed to meet with non-household people from another household, as a result of which they can show their real estate to spouses or families again. Individual visits are therefore officially permitted, but mass visits are still prohibited. Alternatively, many real estate companies have therefore opted for live video tours in the past few weeks and continue to expand this option.
Anyone who visits an apartment via live videos has other rights
However, as the German Tenants' Association explains to the Süddeutsche Zeitung, online visits are not a complete substitute for personal inspection of the living space. In order not to be tricked, online tenants should only transfer their security deposit from the move-in date; they have three months from the move-in date to pay this in installments.
In the case of online visits, interested parties also have a special right of withdrawal if the apartment does not give the impression of an online tour. Anyone who has signed the rental agreement by phone, email or letter can exercise this right. If the apartment has any damage or defects that only become apparent after the online viewing, tenants can also contest the contract and, if necessary, claim damages.
Hygiene measures must continue to be observed
Precautions and hygiene rules should still be observed during the visits. This includes clarifying as much as possible in advance and discussing questions by phone or email so that this does not have to be done on site. Do not shake hands and keep a minimum distance of 1.5 meters at all times. Wearing a mouthguard is recommended and adherence to the cough and sneeze labels is essential.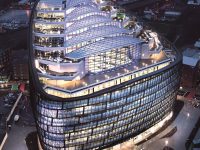 Impressive real estate for your depot? From whole Europe? With grundbesitz europa, investors can easily invest in the European real estate market. And all of that from small amounts of money.
Furthermore, documents should not be exchanged on paper, but sent digitally. So both sides come into contact with fewer germs. For this purpose, as few surfaces as possible should be touched in the property. If a landlord or broker is in quarantine, as are those interested, a visit is of course also excluded.
Image sources: 3DPhoto / Shutterstock.com