Latest
UK open-ended real estate funds suspended from trading
Britain's large open-ended real estate funds are currently not traded. The FCA supports the decision.
British real estate funds suspended from trading
In March and April 2020, many of Britain's well-known fund providers stopped trading their open-ended real estate funds. Major UK funds such as those of Legal and General, Aberdeen Standard Life, Janus Henderson, Columbia Threadneedle, Aviva, BMO and M&G are currently not returning share certificates to investors even if they wish to withdraw their money from the funds. The dilemma according to the Handelsblatt: Fund investors would still have to pay management fees, even though they no longer want to hold the shares. Smaller private investors could normally pull their money out of the fund every day, institutional investors with larger amounts at least quarterly or half-yearly. This is no longer possible, the British have to let their shares in the fund for the time being. According to the Handelsblatt, the British are said to have invested a total of £ 28 billion in open-ended real estate funds.
The background should be inadequate assessment bases
Legal and General, Aberdeen Standard Life and Co. justify the Fund's trading suspensions due to property valuation difficulties and not, as might be obvious, liquidity problems that could be attributed to a wave of share redemptions. The official statement of the large fund managers is that the value of a commercial property can be poorly assessed due to the current corona situation. One of the reasons for this is that many office or hotel areas are currently not being used due to lockdown activities and against this background the real property value cannot be determined. Independent property adviser John Forbes told the Financial Times: "What is the value of a pub, hotel, or business if you can't use it? What is the value of an office if nobody can get in? "
The FCA supports the decision
The British financial market regulator FCA supports the decision of the fund providers. In a statement dated March 18, 2020, she announced that various appraisers had determined that there was a current valuation uncertainty in commercial real estate. The fund managers' trading suspensions are compliant and even in the interests of investors. In addition, the FCA will soon introduce a new clause that will require fund managers to stop transactions from September 2020 if there is uncertainty about the assets of more than 20 percent of their portfolio, according to Bloomberg, among others.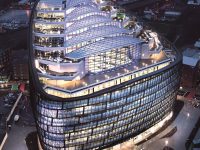 Impressive real estate for your depot? From whole Europe? With grundbesitz europa, investors can easily invest in the European real estate market. And all of that from small amounts of money.
According to a speech by Prime Minister Boris Johnson, a "valuation clause for material uncertainty" was also introduced in all valuation reports in Great Britain, said Rupert Johnson of Knight Frank to the Financial Times. The fund providers now rely on this clause.
Suspending the funds is designed to protect long-term investors
Although the actions of the UK property fund managers are currently not having a positive effect on investors who would like to pull their assets out of the fund and who now have to bear additional administrative costs instead, the suspension of trading is only intended to protect investors. According to Paul Richards, managing director of the Association of Real Estate Funds, the measures are intended to protect long-term pension investors in particular. Because the consequence of too little liquidity due to too many redemption requests and unreliable property valuations could be that the fund providers would have to sell real estate under value.
Image sources: Bucchi Francesco / Shutterstock.com