Latest
The agricultural industry is concerned with basic supplies and crop protection
"Self-sufficiency" is an illusion, but the regional basic services must be efficient in times of crisis, the Syngenta driver demands in his first PK as head of the IVA. Especially when there is a drop in earnings due to difficult weather, such as in the two drought years. Hudetz is therefore also critical of the political will to expand organic farming. If, as is currently being discussed in Baden-Württemberg, 40% of the cultivation nationwide were converted to organic, the quantities produced at home shrank even further. This would then also be felt by the manufacturers of fertilizers and crop protection.
The German market is already not doing well with crop protection. While consumption is steadily increasing in South America and Africa, the downward trend in fertilizer sales (nitrogen: -10% to 1.34 billion tons) and sales of herbicides, fungi and insecticides (-7% to 1.19 billion) Euro) cannot be stopped even in the 2018/19 fertilization period. There is now a sales gap of 25% at its peak in 2014. Hudetz states that there can be no question of too much use of the unpopular materials.
In addition, the manufacturers of weed and pest control products are responsible for the shrinking number of "application mechanisms" that are still permitted in Germany. According to IVA, they will have halved in the near future. Although there are actually three uses per culture. An expansion of the crop rotation, as provided for by the Agriculture Minister Julia Klöckner (CDU) "Agriculture Strategy 2035" to cover the globally growing food demand, can hardly be achieved. According to the experts, more judgment with special routes and additional requirements for the approval of plant protection products could help. Especially since Corona is currently slowing down the important approval processes due to emergency operation in authorities and laboratories.
personal-financial.com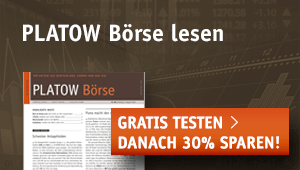 With PLATOW stock exchange to deposit success – test 4 weeks, then 30% discount
PLATOW Börse is the competent advisor for your equity investment. The focus is on the German stock market, supplemented by the best investments from Western Europe and the USA.
This report is not an invitation to buy or sell securities. No liability is assumed for the correctness and completeness of the information or for financial loss.