Real Estate
Owners are to be forced to sell vacant properties
The Bauen-Agrar-Umwelt industrial union calls for properties that have been vacant for at least three years to be offered for sale.
Principle instead of expropriation
"We cannot afford to speculate and fallow building land in the current housing shortage," IG-BAU boss Robert Feiger told the newspapers of the Funke media group, thus addressing the Germany-wide housing shortage. But he also presents a solution to the problem that he considers effective and feasible. According to this, the plan of the industrial union is to make owners obligated to sell their unused property. As soon as a property is empty for at least three years, the owners should be forced to offer it for sale. This should give cities and municipalities the right to purchase the property. The price should not be set by the owner himself, but by an independent appraiser, reports wallstreet: online. In the event that owners should refuse to sell, one wants to take action with a forced sale at market value. However, the industrial union rejects the allegation of expropriation and emphasizes that the measure is an act within the meaning of the principle of "property obligation".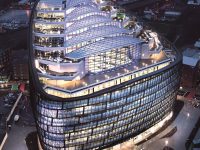 Impressive real estate for your depot? From whole Europe? With grundbesitz europa, investors can easily invest in the European real estate market. And all of that from small amounts of money.
Demolition as a means of enforcement
Feiger's deputy Dietmar Schäfers emphasized that the property should remain in public hands in the long term if a municipality or city exercised its right to purchase. The city or municipality should then make the decision on whether it is necessary to renovate, convert or even demolish, writes wallstreet: online. Economic criteria should then be used to decide which solution guarantees the optimal use of space. In the past year alone, according to a report by the Pestel Institute, more than 757,000 single-family houses had been left unused. That is why the general manager of the German Association of Cities Helmut Dedy makes it clear that more support for the cities is definitely appropriate and necessary. He believes that a simplified municipal right of first refusal is a good means of making optimal use of unused, vacant properties. Cities with great housing shortages and high rents could be helped with suitable plots for more affordable housing, and one could curb the shortage of housing in many German cities in the long term. It remains to be seen to what extent the demands of the industrial union will be accepted and implemented.
Image sources: Andy Dean Photography / Shutterstock.com