Business
Dipstick corona: VanMoof in top gear
The capital injection is helping the bicycle brand expand internationally, following the success of the long-awaited new electric VanMoof S3 & X3 bicycles.
Reset for mobility
Now that social distancing is the new reality, the demand for high-quality e-bikes is increasing. Bicycles are seen as increasingly reliable compared to public transport. And governments all over the world are working on new cycling initiatives. New York, for example, has just promised to build shielded cycle paths in Manhattan and Brooklyn. Berlin has just completed the construction of a two-kilometer cycle path along one of the main roads. Milan and Brussels also want to limit car use after the lockdown with a kilometer-long cycle track. New York's Department of Mobility previously announced that there were 50% more cyclists compared to the same period last year, and in London bicycle shops report a massive increase in sales after the government labeled them a critical sector. In Philadelphia, the number of cyclists has risen by 150% since the corona crisis. This global trend reinforces VanMoof's belief that e-bikes are revolutionizing urban mobility.
What is the status of your marketing in connection with the corona crisis? What are striking things in terms of marketing? Campaigns stopped, budget restrictions, etc.?
"The corona crisis is terribly tragic, but we are lucky that VanMoof is doing really well. At a time when social distancing is the new reality, the demand for quality bikes is growing very fast now. As a result, VanMoof is currently more visible worldwide than ever. The bicycle is seen as a safe form of mobility. Policy makers around the world are responding with significant investments in bicycle infrastructure and are calling for the bicycle. From New York to London, from Berlin to Paris. We recently launched our new generation of e-bikes. We did this with an interactive online event. The launch drew nearly 6,000 live viewers. They were in the digital front row at the reveal and had the opportunity to ask founders Ties and Taco Carlier questions directly in a Q&A. "
Have there been significant marketing decisions in terms of strategy? Does the advertising agency play a role in this?
"The most drastic marketing decision we made recently was to completely change our plans for the launch of our new range. We had to. We had big plans that had been in the works for more than half a year to unveil the bicycle with great fanfare in various physical locations worldwide. But yes, then came corona. Then we had about 4-5 weeks to redesign the launch in a way that could work within corona restrictions. We do not work with an advertising agency. We have (almost) everything in-house. Fortunately, because we were able to make big decisions in such a short time, think up new things very quickly, try and improve, resulting in the online launch event [kijk hier terug]. We have hooked up with the digital experience agency Resn for this. "
What about the sale of bicycles? Do you think corona plays a role in this?
"It is going very well with the sale. Even before the launch of the S3 & X3, we already reported a sales increase of 48%. We mainly attribute this to corona. This year we consistently turn 20% above target. The launch success contributes to this. Our latest range is selling 2.5 times faster than any other VanMoof introduction ever. From 2018 to 2019, we quadrupled our sales from EUR 10M to EUR 40M and this year we will increase to EUR 100M sales. "
I see a new appreciation for the underdogs, smaller brands that conquer people's hearts with creativity, character and real perseverance.
What do you currently see as the biggest challenge for marketers, especially with regard to the corona crisis of course?
"I mainly have conversations with friends about how striking it is now how brands relate to you. In a positive sense and negative. Some brands now come with things that really help you. Others are unable to adapt. Newsletters for example. Those pre-corona were planned and are now being sent out. Of which the copy and images were correct, but which now completely miss the mark. Then I am ashamed of our profession. Then as a recipient you get the feeling that the sender really only considers you as a wallet and does not bother to come up with something relevant (or leave you alone). I also see really cool examples. It doesn't have to be high tech fancy with big budgets. OneFit for example, who immediately came up with YouTube workouts. That's nice – and it's useful to you. "
What do you think the world of advertising and marketing will look like in 5 months' time?
"I think very positively. I think a few stuck brands are falling through. People feel alienated by them and other brands can take advantage of that. I see a new appreciation for the underdogs, smaller brands that conquer people's hearts with creativity, character and real perseverance. Above all, I hope that we remember that we don't have to buy or sell that much junk. That makes the world really beautiful. "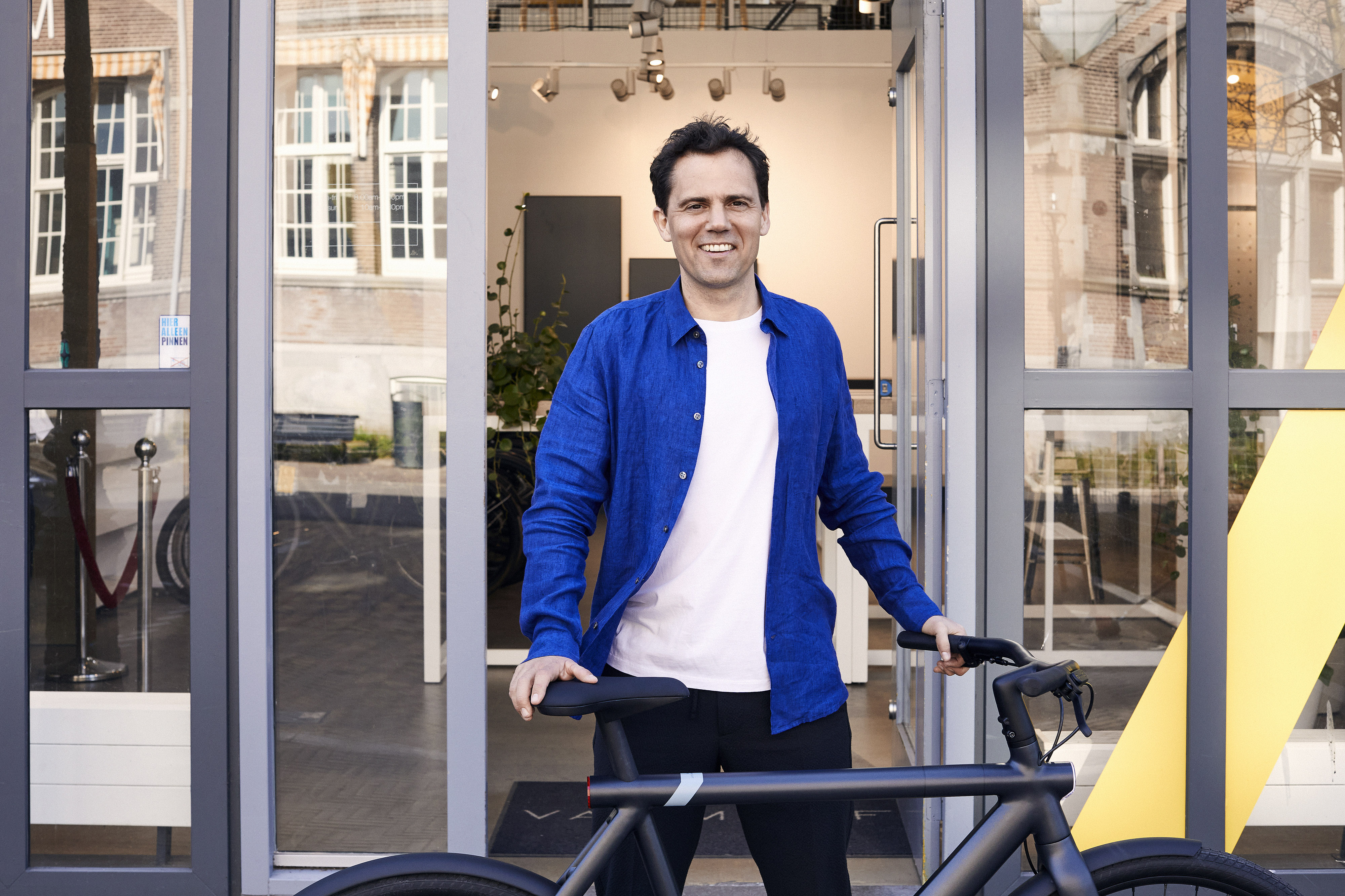 Taco Carlier, one of the founders and owners of VanMoof
About Vanmoof
VanMoof was founded in 2009 by Taco and Ties Carlier, two Dutch brothers with a vision of the perfect city bike. Ten years later, their high-tech feature-rich e-bikes are ridden worldwide by a community of more than 120,000 international riders. The stores of the VanMoof brand can be found in Amsterdam, Berlin, London, New York, Paris, San Francisco, Seattle, Taipei and Tokyo.