Latest
Bechtle – Trimmed for expansion
In March, however, the headwind increased due to the postponement of larger projects and the sometimes drastic measures abroad in the fight against Covid-19. Thanks to the higher-margin services business, EBIT rose by 13.7% to EUR 52.6 million and earnings per share rose by 15.1% to EUR 0.87.
The IT service provider reacted early to the crisis, which we can see from the operating cash flow of EUR 22.8 million, which was always negative from 2017 to 2019 at the beginning of the year. At EUR 285.1 million, liquidity reached its highest level in three years and Bechtle has a decent purchase rate of 43.0%. Even if v. a. CEO Thomas Olemotz said that Q2 will be difficult for FY. The expansion in sight: sales and earnings should increase by at least 5%.
With the good prospects, the MDAX share (EUR 147.70; DE0005158703) jumped to a new all-time high. Our model portfolio value underpins its ambitions through regular acquisitions. On May 27th followed by the virtual AGM with a dividend proposal of EUR 1.20, which means a return of 0.8%. The P / E ratio of 35 appears high at first glance, but it is justified by steadily high growth.
Bechtle remains a clear purchase. The stop moves from 99.70 to the cost price at 116.30 euros.
personal-financial.com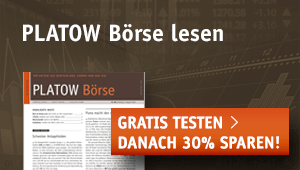 With PLATOW stock exchange to deposit success – test 4 weeks, then 30% discount
PLATOW Börse is the competent advisor for your equity investment. The focus is on the German stock market, supplemented by the best investments from Western Europe and the USA.
This report is not an invitation to buy or sell securities. No liability is assumed for the correctness and completeness of the information or for financial loss.