Make two out of one. It could be so easy to imagine a division of land. However, there are some regulations that the owner must comply with when performing. You should also consider carefully whether the decision is really advantageous.
The requirements for a property division
A property division splits an existing property into at least two areas. According to the surveying office "buck Vermessung", the division of land that is within the built-up location or that is subject to a development plan is free of approval. However, the applicable building planning and building regulations are to be observed.
The dismantling of other properties, such as forestry and agricultural areas, however, are subject to approval. In advance, you should inform yourself about the regulations to be followed and, if necessary, get advice from surveying engineers. A professional disassembly measurement is required for the division anyway. This takes place on the basis of the official property register. After the new property has been measured, the new boundary points are calculated. At the measurement date, all owners of the neighboring properties receive a letter to ensure the accuracy of the process. The existing boundary conditions must be compared with the historical documents and checked for deviations. If nothing speaks against a division, the new measurement is included in the property register.
When does a property division make sense?
A plot of land only becomes relevant if a house can also be built on the separated area. According to the broker Frank Müller on the website of the Wuppertaler Rundschau, an area of ​​at least 350 to 400 square meters is required. In the case of development, a minimum distance of three meters must be observed from all boundaries of the property and smaller areas could no longer be sufficient for a residential building. In addition, it must be clear in advance whether a building right exists or can be created.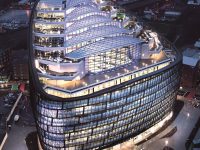 Impressive real estate for your depot? From whole Europe? With grundbesitz europa, investors can easily invest in the European real estate market. And all of that from small amounts of money.
However, with the fulfillment of these fundamental criteria, the advantage of a division is not yet given. According to Frank Müller, it is also necessary to check whether things such as paths, supply and disposal lines "have to be brought deep into the hinterland". Such high development costs reduce the value of the property. In addition, the two newly created plots can have a negative impact on one another. For example, the house next door takes away the view of the beautiful landscape from the existing household. Or the previous high level of privacy can be restricted by narrow buildings. The proceeds from the division must therefore always be netted against the change in the value of the existing property.
Image sources: Sigur / Shutterstock.com